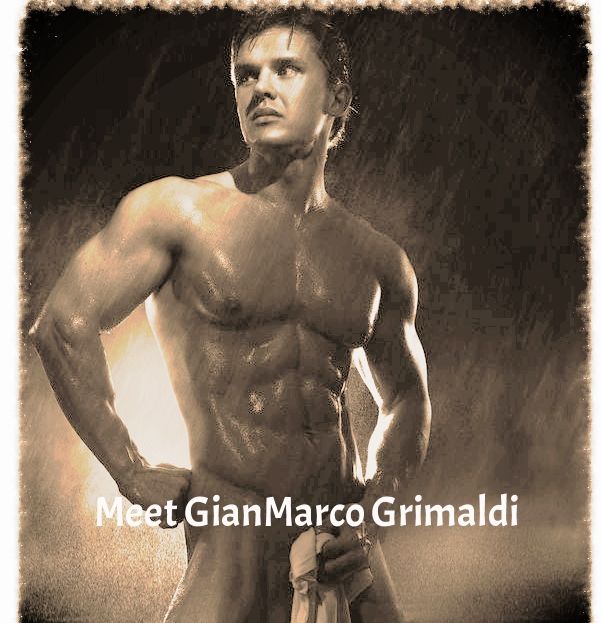 GianMarco Interview:
Eve: Today I'll be interviewing Mr. GianMarco Grimaldi. You might know him from the first book in the Blood Brother's series GianMarco. Thank you for the honor of this interview Mr. Grimaldi.
GianMarco: You're welcome. But please call me GianMarco or Marco.
Eve: Okay. GianMarco. How about starting out by telling us a little about yourself.
GianMarco: Well, I'm a vampire. I'm over six hundred years old. I'm the youngest of four siblings, all brothers.
Eve: Wow, a vampire. What's that like?
GianMarco: What's it like being a vampire?
Eve: Yes
GianMarco: *smirk* What's it like having breasts?
Eve: (awkward pause) Errr….great?
GianMarco: I'm just teasing you, my dear. I imagine being a vampire is no different from you being human, except I have extraordinary abilities like mind reading, exceptional hearing and eye sight and incredible speed. I'm also mastering the ability to teleport but that ability comes when one is really ancient. Even at this ripe age, I'm not considered an ancient yet. My brother Dante however is nearing that milestone.
Eve: That' pretty interesting. Speaking of being a vampire, I hear you guys have an interesting way of feeding. Could you tell us a little bit about that?
GianMarco: I don't think there's anything particularly interesting about the way we feed but since you asked so nicely I don't mind explaining. My kind can eat food just like humans. We enjoy it in fact, but it does not give us enough sustenance to sustain our body's unique physiology. What's gives us our fortitude is human essence which can be found in either blood or sexual secretions.
Eve:*clears throats* Uh, sexual secretions?
GianMarco: Yes, I'll spare your delicate sensibilities by not going into detail but let's just say, that's one of the reasons we're very sexual creatures.
Eve: *nods* I appreciate your discretion, GianMarco. But as far as feeding on blood goes, how does that work?"
GianMarco: When a vampire is younger he gets his blood from a close relative like a parent of their guardian. As we grow older when usually get it in the act of sex. I do enjoy the warm flow of blood in my mouth, Type O being my favorite, but there's nothing like the other stuff…if you catch my drift. *winks*
Eve: *wiggles in seat* So…six hundred years is a long time to have lived. What have you done with yourself over the past few decades?
GianMarco: I've held many occupations in my lifetime. I've been an artist, a carpenter, a sailor, a farmer, a police officer. You name it, I've probably dabbled in it. Currently I run a detective agency with my best human friend Oliver Townsend. And when I'm not working my day job, I'm an agent in my brother Dante's agency called The Underground.
Eve: That sounds fascinating. What exactly is The Underground?"
GianMarco: There's only so much I can tell you since our missions are usually top secret but I can tell you its purpose which is to eradicate the rouge threat. Dante started the Organization because rouge vampires killed our parents. We've been on the hunt for a particularly nasty rouge named Il Diavolo. Dante feels, and I agree that he is behind a lot of the terror plaguing the immortal community.
Eve: Wow, that sounds dangerous and exciting. I hope you guys find this guy.
GianMarco: Thank you, my dear.
Eve: You're welcome. So I hear congratulations are in order on finding that someone special.
GianMarco: *smiles*Thank you. Maggie is very special to me. She saved me from myself.
Eve: How so?
GianMarco: Before I met her, I was on a path of self destruction. I took my pleasure wherever I could find not caring who I hurt. She made me see I didn't want to be that person anymore. You see, I had lost someone very special to me before she came along but she taught me how to love again.
Eve: Aww, that's so sweet. You're a big softie aren't you?
GianMarco: Don't tell my brothers that or I'll never hear the end of it.
Eve: So what can we expect next from you?
GianMarco: Well, I intend to focus on my family and help Dante out when I can. One day we will get il Diavolo so that all will be safe.
Eve: That's very noble of you GianMarco. I'd like to thank you for allowing me to interview you. Anything else you'd like to add?
GianMarco: You're always welcome. And to all those who enjoyed hearing my tale, my brother Niccolo has his own story to tell and I hear it's coming soon.
Eve: I can't wait! Thank you, GianMarco.
GianMarco: *inclines head graciously* It's been my pleasure.
Find out more about GianMarco in his story: GianMarco which is available at Amazon and Barnes and Noble.